Welcome to Mariachi Serenata's
Home Page!
Gracias!
We would like to thank our past and present customers for 21 great years of support. We strive to continue to progress as one of the leaders in mariachi music within the Tucson area.

|Estamos muy Agradecidos!
Thumb through the Mariachi Photo Album (21 years of photos): You may see someone you know.
More Photos to come!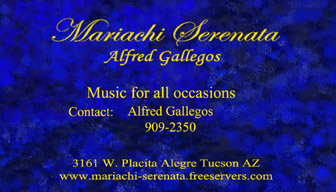 Contact Alfred for bookings
520 909-2350.
If you have any questions, comments or suggestions, please contact us at either of the phone numbers presented on our card above, or send us an e-mail to alfredgallegos@gmail.com.
Sign and View Guestbook
This will soon be a great place to keep in contact with other fellow mariachis.
call or email: alfredgallegos@gmail.com

You may also use the link provided below.